Hi!
I am busy building an in-ear monitor system:
16 Channel Analogue Input and Output via Texas Instruments
PI 4 8GIG
Wireless Audio Transmission via SPARK MICROSYSTEMS which gives a 5ms latency (https://www.sparkmicro.com/wp-content/uploads/2020/03/SPARK-Audio-apps-note-v2.5.pdf) or any other similar chip or perhaps 5G WIFI if possible:
My Questions: - if someone can kindly respond to all of them if possible
Q1. Since this will be a commercial product, can I use the Elk OS without the Elk HAT. I want to design my own 16 channel audio HAT with Texas Instruments. Will the Elk OS pick it up? - reason being I am asking if I can use the Elk OS is because it is built for low latency and I need it in order to process real time audio which will be used for personal monitoring.
Q2. Can I use SUSHI to receive multi-track analogue inputs (in my case it will be 16 channels), allow the musician on stage to create a personal monitor mix via bluetooth/wifi with MIDI, add basic effects (e.g. reverb) and then let Sushi send the mix out again to the Spark chip or something similar.
Q3. Since I will be using 8 wireless stereo beltpacks which will connect to the host PI via wifi/bluetooth/SparkChip, Sushi must be able to create 8 individual instances/mixes and output each one of them to a separate Spark Chip or something similar - is this possible with Elk OS?
Q4. Perhaps I can use Cabbage/Csound on the ElkOS to do Q3?
See pic below: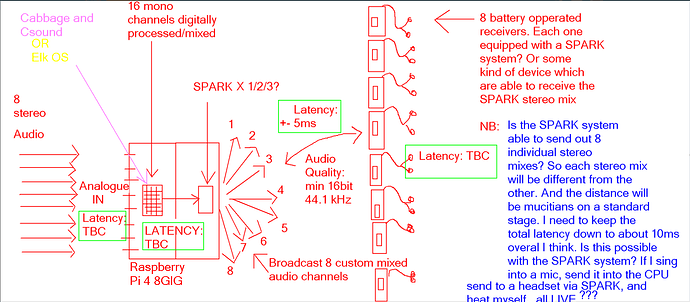 Regards